The secret to a successful hike is making sure your feet are happy, dry, and comfortable from the beginning to the end. Sweaty, blistery, uncomfortable, or wet feet are the recipe for a disaster hike. Choosing the best, and more appropriate hiking boots or hiking sandals are essential to ensuring your feet will be comfortable and happy throughout your hike.
But it can be difficult to decide between hiking boots and sandals, as there are pros and cons of each one. Here is a guide that guides you throughout the entire process of choosing between hiking boots and hiking sandals, so you have all the information you need to choose the best lightweight hiking sandal or boot for your hike.
Things To Look Out For When Choosing Your Hiking Footwear
Lightweightedness
Starting with the most essential thing to consider. The weight of the shoe. There are not really any ifs or buts, as no one wants to be stuck with a heavy shoe on their foot throughout a hike. Whether it's a short day hike or you're going to travel the world, a heavy shoe is an extra weight that you simply don't need. Your shoe needs to be lightweight, so much so that you barely even feel you're wearing it, and it's not a bother during your hike.
Lightweight Sandals, Isn't That Obvious?
The good news is that hiking sandals are naturally very lightweight due to the little material that they contain, so you don't need to worry about sandals weighing you down. However, it's still important to try on the sandals before you wear them on your hike to ensure they really are light for your feet.
Can Hiking Boots Even Be Lightweight?
Yes, hiking boots can most definitely be lightweight. This all depends on the material, and the only way to tell if a hiking boot is heavy or lightweight is from trying it on. This is one of the most critical aspects to consider when choosing a hiking boot, as it can make or break your hike. So be sure to try and test your hiking boot before you start your hike. Walk around in them, jump up and down or kick your legs in the air. Do whatever it takes to understand whether or not these boots may be too heavy for you.
The Material
Materials in your hiking boots or sandals will affect the performance of the shoe itself. The material impacts the weight of the shoe, whether it's waterproof or not, whether it's breathable, and how comfortable it is for you.
Hiking Sandals Don't Have Much Material, So What Does It Matter?
That's a good point – hiking sandals don't have that much material. This means your sandals are also lightweight, and your feet are fully ventilated throughout the hike. However, it is still important to ensure that the material of your sandals is made from breathable, and comfortable material that is nice on the skin. The last thing you want is to have part of your foot sweating from a non-breathable strap that takes hours to dry once it's wet.
What Is The Best Material For Hiking Boots?
The material for your hiking boot is extremely important. It affects the outer lining, the inner lining, and the sole of your boot. It affects the boot's comfort, grip, and weight, all of which are crucial things to consider when choosing the best hiking boot for yourself.
Some popular hiking boot options are made of leather. These boots are water-resistant, durable, and built for long-extended hiking trips. There are different types of leather you can choose from, such as full-grain leather, split-grain leather, and nubuck leather. The downside to this material is that they can be quite expensive, and take a while to break the boots in before they are ready for a long trip, so they can start off feeling quite uncomfortable, to begin with.
There are also hiking boots made of vegan materials such as synthetic leather. These boots are usually very breathable but not always the best waterproof materials. If you are looking for highly waterproof boots, you will need to invest in boots that have Teflon or Gore-Tex liners that are extremely lightweight and allow your foot to stay dry from both sweat and water at the same time. Furthermore, synthetic hiking boots are usually quicker to break in than leather hiking boots.
The majority of soles on shoes are made of Vibram, DuraTread, or Rubber. All of these are tough, comfortable, and work well on rocks. If you are buying hiking boots for a particularly rocky trip, then consider the tread on your shoe as well as what the sole is made out of.
Tread
The tread is the pattern on the sole of the shoes, which can make a difference in the amount of grip you will have on rocks, dry terrain, or water.
Tread On Hiking Sandals
The tread on hiking sandals is not as deep as that of hiking boots, but it still needs to be profound to survive all weather conditions, particularly rocky steams and water hikes. The ideal tread of a hiking sandal can function on dry, flat land and instantly take you through dry, wet, or humid conditions without causing you to wobble or slip.
Tread On Hiking Boots
Understanding your environment of walking is key to finding the tread that works for you. Tread on most hiking boots is grippy and strong, especially on the lighter hiking boots. The benefit of this means you are prepared for all weather conditions and terrain, but the drawback means it may be a little uncomfortable on the easier paths you are on. Don't choose a tread that is the most aggressive you can find, as this can lead to discomfort on your foot. Make sure the tread is appropriate for the hike you are going on.
Lacing And Straps
This is how your shoe is attached to your foot. Hiking boots typically come with laces that are adjustable to ensure your foot and ankle are fully supported. Hiking sandals typically come with straps to allow for maximum ventilation to your foot. Less straps means more ventilation – but also that your foothold is less firm. It's all about finding the perfect balance for your individual needs in terms of straps design, straps width, padded or non padded straps etc.
When you try on both hiking sandals and boots, don't be afraid to adjust the lacing or straps to check it fits absolutely perfectly. The lace or straps will hold your foot in place and will prevent the shoe from coming off even in the harshest of weather.
Comfort + Size
If your shoe isn't comfortable, you probably have the wrong size. Likewise, if you have the wrong size, the shoe won't be comfortable for you. Don't be afraid to try on multiple sizes or test out different styles of your hiking boot or sandal. If the shoe you chose ticks all the above boxes but just isn't comfortable or the sizing just isn't quite right, then it's likely that this will continue throughout your hike. An uncomfortable shoe can lead to blisters, especially in hiking boots.
Remember: hiking boots often take some time to break in. Having an expert guide you through the process at the shop should help you understand when a shoe is uncomfortable or when a shoe simply needs breaking into before it is the most comfortable it has ever been. Make sure to take your thick hiking socks with you to the shop to ensure that you get an accurate feel for what it will feel like on your hike.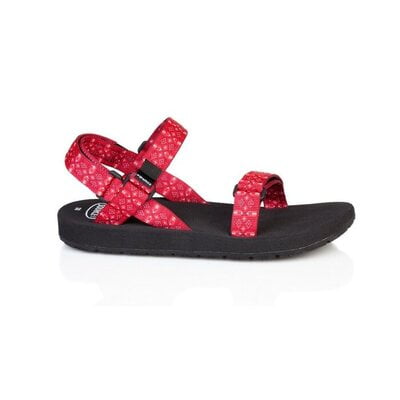 How To Choose Between Them? 4 Questions To Ask Yourself:
1. Where Are You Hiking?
First things first, understand where you are going. Are you planning to become a full-time traveler, or are you on a one-off hike to a forest near you? On the hike, will you go into streams and lakes, or is the ground quite dry? Will there be hills, or is it flat ground?
Gaining a deeper understanding of the type of hike you are going on helps you understand what shoe is better for you. If you are going into wet terrains, such as water hikes, or walking in the heat, hiking sandals may be the best option for you.
Are you hiking with a heavy weight on your shoulders, or are you going into very rocky terrain? Then having your ankles fully supported and your feet covered with hiking boots is best.
2. How Long Are You Going For?
Hiking sandals are best for day or water hikes in the heat with tour groups, your friends, or your family.
Hiking boots are best for multi-day, longer hiking trails where you might not know how long you are going for, or you might be fully aware, and it is a sufficient length of time that requires extra comfort, support, and warmth of your feet.
3. What Temperatures Are You Going Into?
Heat, water, humid and sandy conditions are the best conditions for hiking sandals, as your feet will be ventilated, the sandals will dry from the water, and you won't be stuck with soggy socks. Cold, rainy, snowy, or windy conditions are the best for hiking boots. Your ankles and feet will be protected, warm and comfortable going through various or even extreme weather conditions.
What Are You Most Comfortable In?
Use your gut feeling. What will feel the most right for you to put your feet in for the upcoming adventure you are going on. Speak to your friends, family, tour guides, or someone who has done the hike before. Try out both sandals and boots if you are unable to make a decision, to see what is most comfortable for you and what you
Pros Of Hiking Boots
Perfect for cold weather and snow
Provides high support for your ankles (tall hiking boots) and your feet
Protects your feet from thorns and scratches
Cons Of Hiking Boots
Heavier than hiking sandals
Takes a long time to remove a pebble in your boot
Risk of blisters
If you don't wear long trousers or socks then the risk of thorns and scratches is only for your feet and ankles
Pros Of Hiking Sandals
High ventilation
High support, especially with back ankle support
Extremely lightweight, compared to hiking boots
Waterproof (if the straps are made of waterproof material)
Nicer designs than hiking boots
Good for rocky streams, sandy, and hot terrain
Cons Of Hiking Sandals
Not ideal for cold, snowy, or windy conditions
Risk of getting a sunburn on your feet. Remember to spray with SPF before.
Risk of strap burn if you don't choose comfortable straps
Hiking Boots vs. SOURCE's Hiking Sandals: Simplified Comparison
SOURCE's Hiking Sandals:
Extremely lightweight
Waterproof, sturdy, and quick-drying
Suitable for all-terrain
Surprisingly, provides high support especially with high-padded straps
Waterproof, breathable, and quick-drying
Surprisingly high tread. Suitable for all-terrain including rocky, wet, and slippery.
Velcro for high, strong, adjustable, and stable support. Extremely quick to put on and take off.
High ventilation, your feet will breathe and will remain dry when not in the water.
Adjustable in size, comfortable from the first step, and good for all feet shapes and sizes
Long-lasting and extremely
Not great for colder weather
Need to wear SPF on your feet to prevent sunburn
Comes with a perfectly sized sandal pouch to not get mud or water on your bag
The sandal pouch fits inside SOURCE's tactical backpacks perfectly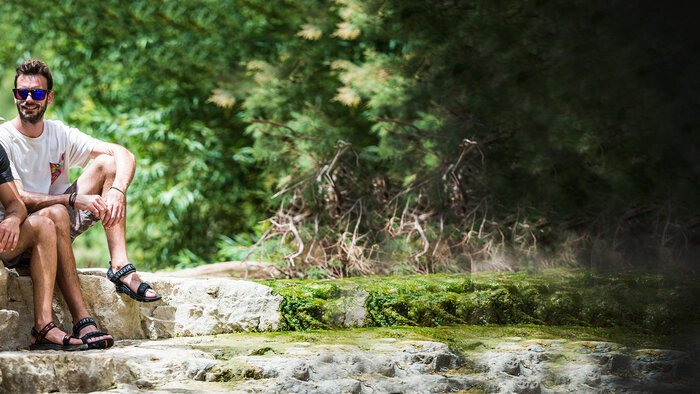 Hiking Boots:
Range from being lightweight to heavy, depending on the material chosen
Leather to faux leather (Teflon or Gore-Tex). The sole is usually Vibram, DuraTread, or rubber.
High support and ankle support only with high-top boots. Provides high stability especially with higher treads.
Depends on the materials. Some, such as leather and Gore-Tex or Teflon are highly waterproof but might not always be breathable
Extremely high tread available, ready for all-terrain including extreme conditions like snow, unstable rocks, and rain. The higher the tread, the more uncomfortable the boot can be.
Lacing for adjustable support. Can take time to lace up and to take off.
Can be good for ventilation. Some waterproof materials aren't also well ventilated so your foot may sweat.
Can feel uncomfortable at first before they're broken into. Can take time to find the right sizing and comfort. Need to be worn with hiking socks that prevent blisters to see true size.
Suitable for colder, snowy, rainy, or windy weather
Once broken in, super warm and comfortable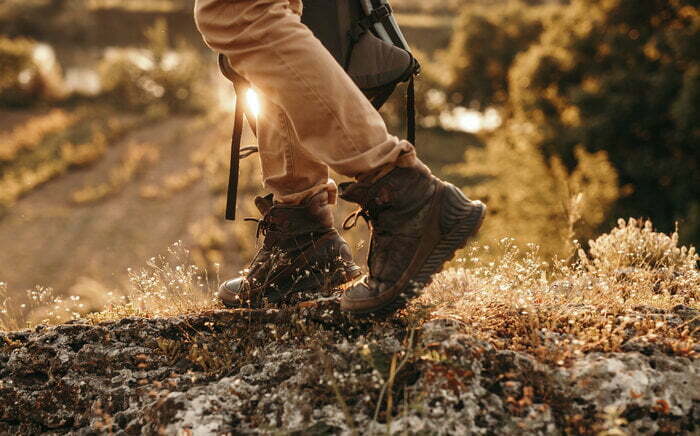 Lightweight Hiking Boots, Or Lightweight Hiking Sandals?
Choosing between the 2 depends on where you are going, for how long and what you personally prefer to wear. Don't worry if you are feeling a bit lost. Why don't you go and try on (or order online with returns options available) both types of shoes and feel the difference yourself?
SOURCE's outdoor sandals are the lightest, most sturdy, and reliable hiking sandals out there. You can rely on your sandals to be the source of comfort that you need on a hike. You won't even remember they are there due to how lightweight they really are. No corners are cut in our sandals. We made sure to design them to be your long-lasting companion on all hikes in the heat, water, rocks, and sand.
Now You've Got Your Shoes, Make Sure You Stay Hydrated On Your Hike!
The second most important thing (after getting appropriate shoes) is ensuring you have a suitable water system to stay hydrated on your hike. Water bottles are not only heavy, but they take up lots of important space that you may need for food, tents, or other hiking equipment. SOURCE's tactical hydration bladders are lightweight, space-saving, can hold from 1-3 Liters, and are extremely durable. You don't need to even worry about washing them, thanks to the Glass-Like film with Grunge-Guard technology which inhibits bacteria growth, and makes the bladder virtually zero maintenance.
Source link: https://sourcetacticalgear.com/hiking-boots-vs-hiking-sandals/ by mark ginsberg at sourcetacticalgear.com