Did you know there are 7 genius things the 3L Source tactical hydration pack can do, which can enhance your outdoor adventure to the fullest?
Tactical hydration packs are loved by adventure junkies across the world. They not only allow for hands-free drinking, but they are versatile, adaptable, and durable for all weather conditions. Learning about the unique features of your tactical hydration pack is key to being able to use your hydration pack to the fullest, so it can support you in all your adventures at all times of the day.
Here are 7 genius things your Source 3L tactical hydration pack can do, that you may not have been aware of:
Comes In 4 Unique Colors
Black, coyote, multicam, and olive are the 4 unique, army-style colors that this tactical hydration pack comes in. These 4 colors give you the option to choose which type of camouflage you would like or to choose the universal color of black. Choose the color that fits your outdoor adventure best, or the one that pleases your eye the most. Or, you can purchase all 4 colors to have many options. The choice is yours.
It Can Be Worn 3 Ways
It can be worn as a backpack. Simply place it over your shoulders, and you're good to go. You can even add in some snacks, keys, or sunglasses to carry on your day adventure.

Insert it into your

tactical backpack

. If you are going on a longer adventure or tactical mission, why not take both a tactical backpack and tactical hydration pack. Should you need to leave your backpack somewhere, you can still carry your hydration with you for hands-free drinking. Then, when you return back to your hike, simply place it inside the backpack and watch as 2 backpacks merge into 1.

Attach it via MOLLE onto your tactical vest, or tactical backpack. If you don't have space in your tactical backpack for another thing, why not attach it via MOLLE webbing to the outside of your backpack? It will be secure and stable for your adventure as if it is inside. Or, if you have a tactical vest, why not attach it to the back via MOLLE webbing, for ease, security, and comfort of your shoulders.
Allows For The Bladder To Be Refilled Without Taking It Out Of The Pack
Did you know that you don't even need to take the hydration pack out if you need to refill it? The tactical hydration bladder and hydration pack come with external fill ports that allow you to refill on the move, fast, with no spillage. A game-changing piece of equipment in the outdoor industry!
Includes A 7-Way Clip System
There are 7 clips across the backpack that allow you to easily take the pack on and off, connect it to something else, or provide more support for your shoulders and chest. The clips also come in the same color as the pack itself giving you a clean-finish, camouflaged look.
Protects Your Water From Dirt And Heat
No one likes sandy, muddy or warm water. Especially not when they are on an adventure. Keep your water clean, fresh, and free from all types of unwanted particles with the QMT valve connector that shuts off quickly once used. Furthermore, the cool weave cover insulates your water, and the glass-like, grunge-guard technology of the bladder keeps your water clean and free from bacteria growth every step of the way.
Can Adjust To Your Specific Requirements
With adjustable straps, and tuck-away shoulder straps, you can adjust the hydration pack as and when you see fit. Should you be wearing more layers one day, and less the other, make sure to take advantage of these adjustable straps to be fully comfortable and supported on your adventure.
Is Self-Cleaning
No need to wash with soap and water on a daily basis. The bladder is self-cleaning, meaning you simply need to hang it to rinse it with some clean water and hang it, and there will be no bacteria growth or grunge that will be found.
Be aware, this cleaning system is only successful when the bladder is used with water only. Should you use flavored water, be sure to wash it out with lots of clean water and a bit of soap at the end to ensure that no flavoring, or sugar is left inside which can lead to bacteria growth.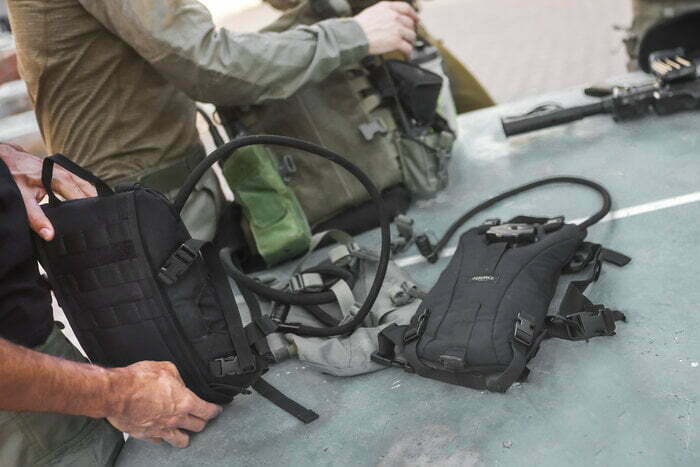 Make The Most Of Your Tactical Hydration Pack Today
Don't take our word for it, why not try the tactical hydration pack today to see just how all of these features work. Our hydration packs are built to last the harshest of weathers, for the longest periods of time. They are designed to support you every step of the way by providing you with hands-free drinking, long lasting freshness, and ultimate comfort.
Use it as a backpack, as an addition to your tactical backpack, or somewhere in between. One thing's for sure, it won't let you down, and will be your trusted source of hydration the whole way.
Source link: https://sourcetacticalgear.com/7-things-your-3l-tactical-hydration-pack-can-do/ by mark ginsberg at sourcetacticalgear.com